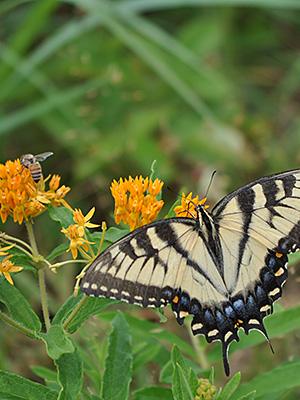 Greentree Foundation and Seatuck Environmental Association are pleased to announce the 2023 Greentree Foundation Teachers' Ecology Workshop. The Workshop (now in its 12th year) provides in-depth lectures, field-based programs and hands-on learning experiences designed to enhance participants' knowledge of Long Island's natural world. It also provides skills and techniques for incorporating nature into school curricula, using the outdoors as an extension of the classroom, and adapting nature study to the NYS Science Learning Standards.
The Workshop is lead by Seatuck staff and professors from Adelphi University, Hofstra University, as well as other local experts. Participants also hear from Workshop alumni about their experiences in taking the program's lessons back to their schools. The connection to these and other teachers in the robust community of Workshop alumni facilitates an ongoing process of learning and collaboration.
The Workshop commences with a week-long session in July at Greentree in Manhasset, New York. Participants will spend most of the day outside on the property's 400 acres of mature woodlands, restored grasslands and glacial topography.  This provides a remarkable natural classroom to immerse in the study of Long Island's ecology.  The lectures will also be conducted primarily outside (weather-permitting) as well as through pre-recorded videos.
The program continues throughout the school year, with seven Saturday field trips and programs across Long Island to explore the region's varied and unique natural features.
Must be an active NYS certified teacher or administrator working in a school district on Long Island, Queens and Brooklyn. Must attend all 12 days of the Workshop – five days in July plus seven field trips.
The Workshop is free of charge and space is limited. Application must be submitted no later than April 28, 2023. Selection for this program will be largely based on the extended response question on the application.  Acceptances will be sent by email.
The Workshop qualifies for a maximum of 70 hours of Continuing Teacher and Leader Education (CTLE) through Adelphi University, a NYS CTLE-approved institution.
Participants can also earn up to 6 graduate credits ($500/credit) through Adelphi University. Registration materials will be provided on the first day of the Workshop.
For more information, please contact              Dr. Emily Kang [email protected].
The health and safety of our staff and guests remain a top priority during the ongoing COVID-19 situation.  Out of an abundance of caution, the Workshop (the week-long session in July and the seven field trips) will run while adhering to the appropriate guidelines according to the Center for Disease Control (CDC) and local public health officials.  These guidelines will be communicated to participants at the time of the Workshop.
"My learning here has forever changed my classroom teaching practices for my students, empowering them to be activists and change agents."
Sarah Speechley
Baldwin School District
"Those who will learn and benefit from this experience transcends above and beyond the teachers who are lucky enough to experience it in the first place."
Antonia Ryan
Bethpage School District